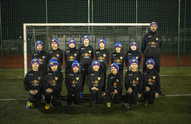 Appreciating the enthusiasm and passion of young people who play football in the neighborhood with our company, we decided to sponsor the children's team of Włocławek Sports Club Włocłavia.
It is the most well-known, operating Sports Club in Włocławek, whose sporting traditions date back to 1946.
As part of the sponsorship, the children received from us the tracksuits, so that they can train regardless of the weather conditions.
We hope for fruitful cooperation with the Club and we wish you all sports successes!